Restore Function & Appearance of Your Teeth with Dentures
Let Elite Dental Care help create the smile you deserve with custom dentures. Since 2001, Dr. Zavari has been providing high-quality denture services in the Beaverton area that are tailored to meet your individual needs. From complete dentures to partial dentures, we use the latest technology and techniques so your dentures look natural and feel comfortable—and the process is smooth and painless.
Schedule Your Consultation
Beaverton's Denture Dentist
Our dental office is known in the Beaverton community for providing a great patient experience. We'll make sure you are comfortable throughout the process and ensure you get beautiful results. Not only do we have over two decades and hundreds of dentures under our belt, we have strong, long-term relationships with local labs to guarantee your new teeth fit and feel perfect.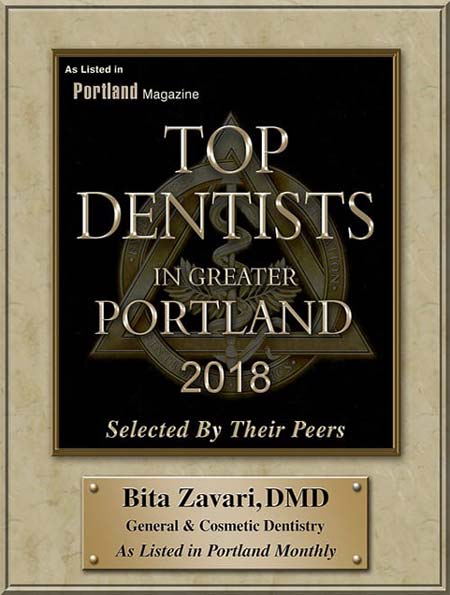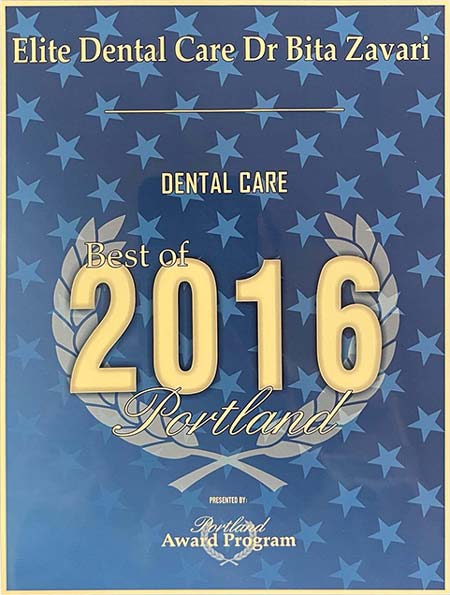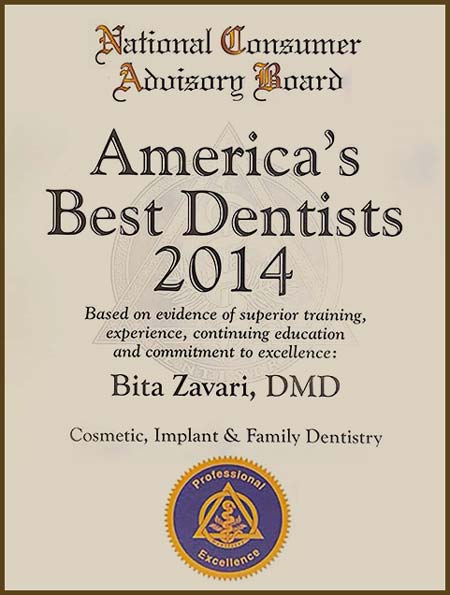 Types of Dentures We Offer
Dentures are used to replace missing teeth and restore the function and appearance of the mouth. They are typically made of acrylic resin, porcelain, or a combination of materials and are custom-made to fit the shape and match the color of the patient's natural teeth. Dentures are designed to fit snugly against the gums and can be secured in place with dental adhesives or by attaching them to implants or your existing teeth.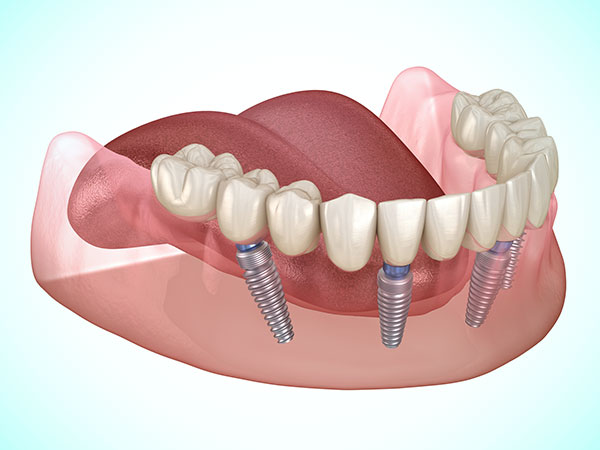 Fixed Dentures
Fixed dentures are permanently attached to dental implants or natural teeth. Unlike removable dentures, they are designed to stay in place at all times. Fixed dentures can be used to replace one or more missing teeth and are commonly used when a patient is missing multiple teeth in a row. The two common types of fixed dentures are implant-supported dentures and dental bridges.
Pictured: Complete lower dentures supported by implants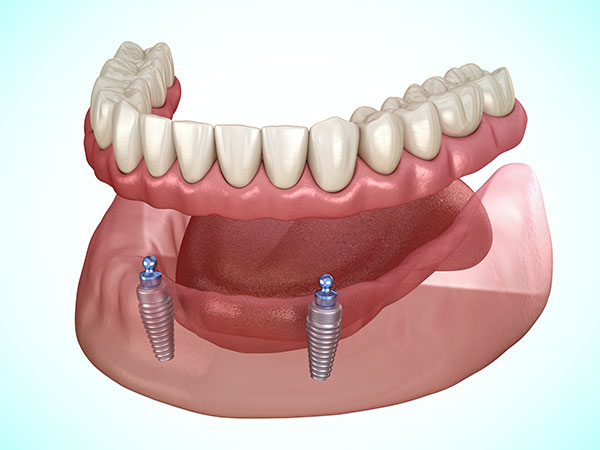 Snap-In Dentures
Snap-in dentures, also called "overdentures", consist of a removable denture that is attached to a metal framework, which in turn "snaps" onto dental implants or existing teeth. These are an attractive option for patients who are looking for a more stable and secure alternative to traditional dentures. They can also help preserve the underlying bone in the jaw, which can deteriorate over time when teeth are missing.
Pictured: Complete lower overdentures that attach to implants
Removable Dentures
Removable dentures, also known as traditional dentures, are the most common type due to their affordability and convenience. They are held in place by natural suction or dental adhesive and can be used for patients who have lost some or all natural teeth. They can, however, be less stable than fixed dentures and may require more frequent adjustments to maintain a comfortable fit.
Pictured: Removable partial dentures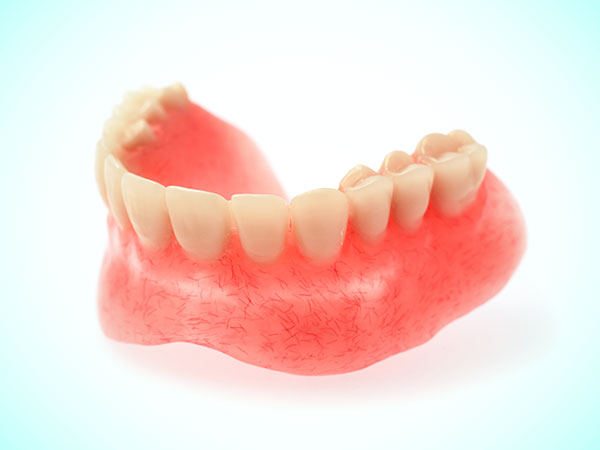 Temporary Dentures
Temporary dentures, such as "immediate" or "economy", are used as a short-term solution while a patient's permanent dentures are being made. They are typically made of a soft or malleable material that can be easily adjusted and molded to fit the patient's mouth. Temporary dentures are used when a patient has had one or more teeth extracted or when the patient is undergoing a dental implant procedure.
Pictured: Complete lower temporary dentures
The cost for dentures can be as low as $1,000 per "arch" (top or bottom set of teeth), but depends on the type of denture you choose and how many teeth are involved. The more teeth involved, the higher the cost typically.
Most insurance plans have coverage for part or all of the cost of dentures, but typically have specifications on the type(s) of denture they cover.
During your initial consultation, our financial coordinator will review your dental insurance to see if Invisalign aligners are covered under your benefits and give you a complete financial plan. We also offer in-office insurance or financing to help with costs.
Common Questions & Answers
Are dentures painful?
New dentures are like new shoes. You have to break them in. It's common to experience some soreness or irritation in the mouth, especially in the first few days or weeks as you adjust to wearing them, but this is generally not considered painful. A couple of follow-up visits are usually needed to make adjustments to your dentures, based on the shape of your bone and tissue.
With proper care and regular checkups, dentures can be a comfortable and functional solution for replacing missing teeth. If you experience significant pain or discomfort while wearing your dentures, it's important to contact your dentist right away.
Do dentures feel like real teeth?
Overall, dentures can be a functional and comfortable replacement for missing teeth, but they may feel different from natural tooth enamel and, in some cases, feel less stable or secure, particularly when eating or speaking. Another difference is that dentures may not provide the same level of sensitivity or feedback as natural teeth. This can affect how food tastes and how the mouth feels. However, most patients find that they adapt to these differences fairly quickly.
Fixed dentures generally feel more natural since they are anchored onto dental implants or existing teeth, making eating and talking easier. Removable dentures may feel less stable or secure. A consultation with Dr. Zavari will help you determine if and what type(s) of denture is the right option for you.
What materials do you use?
At Elite Dental Care, we use dentures made of acrylic resin, porcelain, or a combination of materials. Acrylic resin is the most common material used for making dentures. It is a type of plastic that can be colored to match the patient's natural teeth and gums. Acrylic resin is also lightweight, durable, and easy to adjust. Porcelain dentures are less common than acrylic resin dentures, but are sometimes used for their natural-looking appearance. Porcelain is a type of ceramic material that is strong, stain-resistant, and can be made to closely resemble natural tooth enamel. The specific materials depend on the type of denture.
Are dentures safe?
Dentures are generally considered safe for several reasons. Denture materials have been thoroughly tested and are designed to be biocompatible, meaning they are unlikely to cause an allergic reaction or other adverse effects in most patients. Dr. Zavari is highly-trained to assess each patient's oral health and recommend the best type of denture for your individual needs. Advances in dental technology have made dentures more comfortable and functional than ever before.
However, like any medical or dental procedure, there are some risks and potential complications associated with them. Some of the potential risks and complications of dentures include: irritation or soreness in the gums or other soft tissues of the mouth, infection due to poor dental hygiene or a buildup of bacteria, and difficulty with speech or eating.
To minimize the risk of complications, it's important to maintain good oral hygiene, schedule regular dental checkups, and follow the care instructions provided by your dentist. If you experience any discomfort, soreness, or other issues with your dentures, be sure to contact your dentist as soon as possible.
What should someone consider when it comes to dentures?
Dentures are an effective and affordable solution for people who have lost their teeth due to injury, decay, or other factors. They can help improve a person's ability to eat, speak, and smile with confidence. However, it's important to consult with a dentist to determine the best treatment plan, as some types may not be suitable for your individual needs. Dentures also require proper care and maintenance to ensure their longevity and effectiveness.
Named One of Portland's Top Dentists
Bita Zavari, DMD has been named one of the top dentists in Portland (2018) by Portland Monthly magazine and one of America's Best Dentists (2014) by the National Consumer Advisory Board.
With her years of experience, latest technology and commitment to continuing education, she has established herself as a leader among dentists in Beaverton and SW Portland. Her caring attitude puts even those with dental anxiety at ease.
You can expect nothing less than the best when it comes to your care and service.
"Dr. Zavari is an amazing professional. She gave me a full assessment of my mouth and made it easy for me to get things done in fewer visits. Also, they are clearly modernized with the latest technology. Another thing I appreciated was that I could see how much I would pay and how much the insurance will cover right away."
Laura G.
"I have been going to Elite for 10 years. The best dentist I've ever been to. Their work is always done perfectly (the first time and on time). I would not go anywhere else. And I actually enjoy going to the dentist!"
Chris S.
"Dr. Zavari has extensive knowledge about mouth, jaw and tooth health. She takes a conservative approach financially and structurally to be as minimally invasive as possible which I appreciate. I feel confident in her knowledge, skill set, and how dedicated she is to continuing education in her field."
Brie D.
"The Elite Dental Team is amazing! Best dentist experience I've ever had. They ask detailed questions, take time to discuss your answers, and are very descriptive about your treatment plan. They are also very mindful of your insurance coverage and will do their best to let you know how much something costs before scheduling."
Brittany S.
"Awesome experience.. from the front of the house to the back. I even enjoyed the set up over the phone. Dr. Zavari is excellent! Even though I was scared to death she made me feel so at ease. The staff made me feel so comfortable. The best dental experience I've ever had by far… They are really good about investigating insurance coverage and helping you understand what's covered, which is very helpful. I'm so glad I chose Elite Dental Care!"
Keke B.
"I am one of those people who absolutely hates going to the dentist, and this experience alone may have changed my mind! Every single person on the staff that I met with—front desk, assistant, dental hygienist and Dr. Zavari were amazing. I am so glad to have found this dentist and would absolutely recommend them to anyone looking!"
Sierra R.
"Going to the dentist can be worrisome and nerve-wracking, but I had confidence in the Elite Dental Team and their recommendations. I am so happy I found this practice and look forward to working with them."
Jill D.
"Dr. Zavari is so kind, and explains any and every step throughout the whole process. Making sure you're comfortable, and understanding exactly why you are getting the services she is providing. Not only is the doctor amazing, she has an incredible team to back her up, always friendly and welcoming."
Tasha C.