The Clear Alternative to Braces
Skip the orthodontist. Your easy, convenient option for straighter teeth starts here. Schedule your consultation with us, get a custom treatment plan, and transform your look in as little as 4 months.
Schedule Your Consultation Online
Preferred Invisalign Provider in Beaverton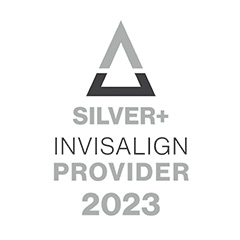 Invisalign clear aligners are a great option for straighter teeth that can fit the lifestyle of any adult or teen. Find out what this treatment can do for you and get started on your journey to a beautiful smile at Elite Dental Care.
Step #1 – Consultation & Evaluation
At your initial appointment, you and the dentist will discuss if you're a candidate, the process, and cost. We take a fast and precise 3D scan of your teeth using our state-of-the-art digital scanner (no gooey impressions). Then, with our Invisalign simulator, you're able to see a highly realistic visualization of your potential future smile—right from your chair!
Step #2 – Treatment Plan
During that same appointment, we will also take a panoramic radiograph and full intraoral and extraoral photos. Using these photos and your digital scan, the dentist will determine the number of trays needed for your treatment. If you're ready to get started, your case is sent to the Invisalign laboratory where your custom aligner trays are created.
Step #3 – Get Your Trays
When your Invisalign trays are ready, 4-6 weeks after your first appointment, it's time to return to our office and pick them up. The dentist will ensure your aligners fit well, show you how to insert them and use them, and answer all your questions. Then, you're ready to go!
How Invisalign Treatment Works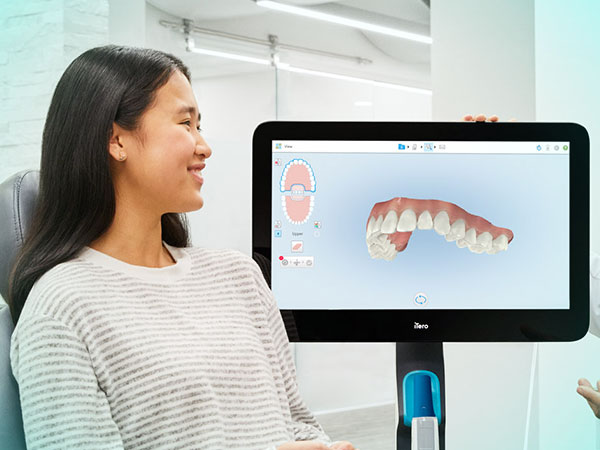 Length of Treatment
The majority of Invisalign cases can be completed within 5-7 months. However, the length of your treatment depends on the current alignment of your teeth—and your consistency wearing the trays.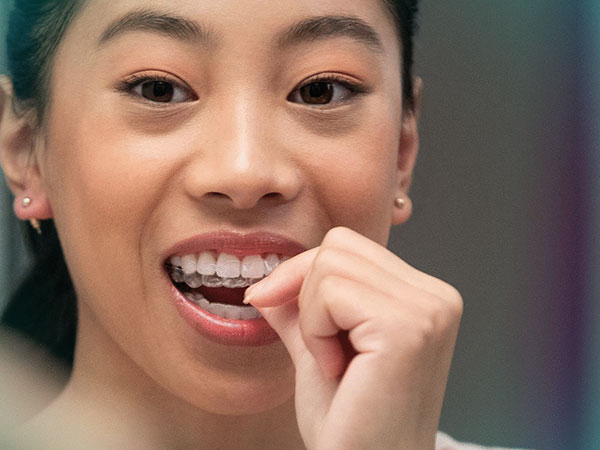 Wearing Your Trays
It is very important to wear your Invisalign trays for 20-22 hours a day. You should only take them off while eating, when drinking anything other than cold water, and when brushing or flossing.
Attachments
Sometimes, in order to move certain teeth, attachments are placed on teeth for the trays to have better retention for movements resulting in faster and better results. These attachments are not noticeable and made to match the shade of your teeth. They are removed at the end of your treatment.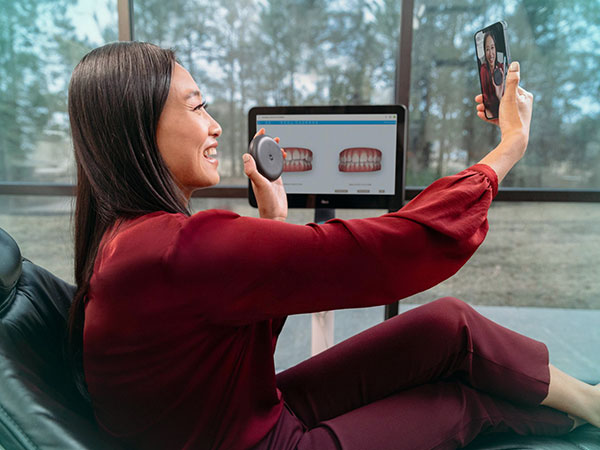 Follow Up Visits
Throughout your treatment, you will return to our office every 6-8 weeks to get a new aligner. These follow-up appointments are quick, lasting only about 15 minutes. Again, the better you are about wearing your trays consistently, the quicker these intervals and less time frame you'll have overall.
On average, the cost of Invisalign treatment for our patients is between $4,000 and $5,800. The price differs for each person based on the severity of the teeth and the number of trays needed during treatment.
Your insurance may cover part or all of the cost. Many local employers, such as Nike and Intel, have a great coverage (Delta Dental) that includes Invisalign.
During your initial consultation, our financial coordinator will review your dental insurance to see if Invisalign aligners are covered under your benefits and give you a complete financial plan. We also offer financing and in-office insurance to help with costs.
Common Questions & Answers
Is Invisalign faster than braces?
Generally speaking, Invisalign treatment is completed in less time than traditional braces—tyically between 5-7 months. This is largely due to the fact that Invisalign fixes less complex alignment issues compared to braces. And this timeframe is dependent on your adherence to wearing the trays 20-22 hours per day.
Who is a candidate for Invisalign?
Teens and adults are the qualifying age group for Invisalign. While Invisalign is a convenient option for anyone's lifestyle, if you have more complex issues that require significant movement of your teeth, it may not always be a suitable option. This will be examined and covered during your initial visit with the dentist.
Will Invisalign treatment be painful?
You may experience some pressure and soreness when you first begin Invisalign or switch to a new tray, but it is generally not considered painful. This is caused by the gradual movement of your teeth into their desired position. However, most people find that any discomfort associated with Invisalign is temporary.
Does Invisalign make you talk funny?
You may notice an initial lisp in the first few days, but this goes away once you get used to the trays.
How often will I get a new tray? And how many is normal?
Each set of trays is worn for 6-8 weeks before being replaced with the next set in the series. The frequency at which you will receive a new tray is largely dependent on your consistency wearing them 20-22 hours per day. The total number of trays needed for your treatment will vary based on the complexity of your case and the specific movements needed to achieve your desired results. Some people may only need a few sets of trays to achieve their desired results, while others may require 20 or more sets.
What happens after Invisalign treatment is complete?
Teeth always move and shift in your mouth depending on your biting habits, age, health and oral hygiene. Therefore, you will typically wear a retainer full-time for the first few weeks after completing Invisalign treatment, and then gradually transition to wearing it only at night. This retainer is clear and custom made for you. Over time, the dentist may reduce the use of this, but it is always important to follow their recommendations to maintain your results.
Named One of Portland's Top Dentists
Dr. Zavari has been named one of the top dentists in Portland (2018) by Portland Monthly magazine and one of America's Best Dentists (2014) by the National Consumer Advisory Board.
With her years of experience, latest technology and commitment to continuing education, she has established herself as a leader among dentists in Beaverton and SW Portland. Her caring attitude puts even those with dental anxiety at ease.
You can expect nothing less than the best when it comes to your care and service.
What Invisalign Patients Are Saying
"Dr. Zavari and her team blew me away! She does an amazing job of explaining what she sees, and you can tell she loves what she does and cares for her patients. The process has been so easy and I'm seeing amazing results!"
Kirsten S.
"Through Invisalign, I was able to get straight teeth and fix my bite. Dr. Bita Zavari and her staff were extremely professional and highly skilled in making sure this was a smooth, easy process. Anytime there were any issues with teeth not aligning as intended, she quickly made sure I got back on track and made the necessary adjustments. I now feel that I can smile more often and laugh without trying to cover my mouth."
Milan R.
"I just finished my Invisalign treatments with Dr Zavari and it was a great experience with a great result! She and her amazing staff make everyone feel VIP. She never kept me waiting, her prices were reasonable, her dental services were exceptional!"
Pat K.
"Elite Dental Care was the first wonderful experience I have had while having dental work. I recently visited for an Invisalign consultation and was overwhelmed by the positive atmosphere. I was immediately comfortable and very assured by Dr. Zavari and staff."
Kaely K.
"My husband and I got Invisalign from Dr. Zavari. She is wonderful and easy to talk to. Her staff were absolutely lovely as well. I am confident that both my husband and I will be very pleased."
Amy L.
"The best of the best 😉 My daughter got Invisalign from Dr Zavari. We are very happy with her services and care. We look forward to sending the rest of the kids to her for Invisalign also."
Nazanin S.